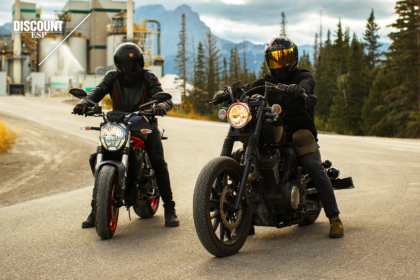 We're positive there are days when you'd love to grab your bike and just hit the road alone. After a long day of work or on a sunny Saturday morning, a solo ride certainly holds appeal. It's always better, however, to ride together with at least one other person—safer, smarter, and more responsible. Here's why you should grab your favorite riding buddy (or group!) before heading out on your bike.
Reasons to ride together
As the National Highway Traffic Safety Administration (NHTSA) states on their website, "If you ride a motorcycle, you already know how much fun riding can be. You understand the exhilaration of cruising the open road and the challenge of controlling a motorcycle. But motorcycling also can be dangerous. Per vehicle miles traveled in 2019, motorcyclists were about 29 times more likely than passenger vehicle occupants to die in a motor vehicle crash and were 4 times more likely to be injured."
Riding alone can create unnecessary hazards for you while on the road. If you get a flat, hit something, or break down when on the road on your own, it can be much more difficult to safely get the help you need. Moreover, if an accident occurs, you'll get help much quicker when you have someone by your side to call 911 than relying on a stranger who may take hours to pass by wherever you are.
When you have at least one riding buddy, you have a built-in support system to assist you if something goes wrong, including getting additional help if need be. Generally, it can also be a more enjoyable riding experience when you are riding with a buddy or group. It is, however, important to find a person or people who have a similar riding style and endurance level as you.
If you don't have a regular riding buddy, there are several different ways to find someone to explore the open road with:
Attend a dealer event or rally.
Spend time regularly at a dealership.
Look for a bike night in your area.
Join a motorcycle riding club or group.
Network with other bikes on social media.
How else to stay safe
Much like riding with a buddy is the safer choice, so is riding while covered by Discount ESP. Our extended service plans for motorcycles will keep you well protected on the road—covering just about every mechanical, electrical and electronic component of your bike—even if you have aftermarket pipes, tuners, or performance upgrades.
With our comprehensive coverage, you'll be covered nationwide in the U.S. or Canada, with no mileage limitations. If something happens to your motorcycle, we make it easy on you by including towing assistance and keeping your deductible low. Moreover, when and if you decide to sell your bike one day, your Discount ESP plan is transferable to the new owner.
Ready for coverage yet? Browse our options, and get a free quote from Discount ESP today!