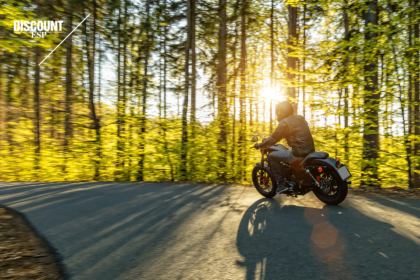 This winter has been one most of us want to forget—with record-breaking low temperatures, rainfall, and snowfall across the continental United States. The country has been holding its breath with the promise of spring and warmer weather around the corner. In the spirit of the open road, here are a few unforgettable spring motorcycle road trips to wipe this winter off the books.
Top road trips for spring
Anza-Borrego Desert State Park, California: Anza-Borrego is the largest state park in California covering 1,000 square miles, and if it's spring, Coyote Canyon is the place to be. It's legendary for its spring wildflower show. The spot may only be accessible by a single dirt road but that's how it should be. If you're looking for an unforgettable loop with plenty of riding challenges, check out this biker's adventure. Few words. A lot of pics. End your trip in San Diego to wash the dust off and watch the sunset.
Cuba: Do you know anyone who has traveled to Cuba on a motorcycle? Probably not, which is the best reason in the world for you to do it. Cuba offers great riding and stunning landscapes. You will unplug, whether you want to or not, and step back in time in a good way. Then there's the music, rum, and cigars. If you want to take your own bike, here's the story of how one person did it. Or, you can rent when you get there.
North Carolina, Highway 12: How close to the water do you want to ride without falling in? Try NC Highway 12, the only north-south route on Cape Hatteras, where the road is flat, curves are gentle, and multiple turn-offs lead to the beaches. Spring is the best time to bike this highway because the weather is great and the tourist season isn't in full swing. Check out this short guide before heading out. 
Hells Canyon, Western Idaho and Eastern Oregon: The Snake River is something to behold, especially as you ride through Hells Canyon. We'll forgive you if you can't find the words to describe it because neither can we. Maybe it's the remote wildness, or the jaw-dropping views, or the birds of prey floating over the landscape, but once it's gotten inside your head, it's there to stay. There are so many great motorcycle rides here that it's hard to pick just one. Take a look at some of the trips your fellow riders have taken and then plan your own. 
Storm King Highway, NY: Michael Nelson says it best, "It may be one of the most dangerous roads around, at least measured in terms of the number of motorcycles that have plunged off the side of it, but Storm King Highway can be considered the mecca of motorcyclists in the Hudson Valley…the twisty route is built into sheer cliffs high above the river, making it titillating (or terrifying, depending on your point of view) to navigate. The views are simply second to none." You won't find a better ride closer to NYC. Go as early in the spring as weather allows. 
Hill Country, Texas: Texas just got rid of their mask mandate and freedom is calling. We're not going to recommend Twisted Sisters because so many have already done that. We're going to send you out on "Hippie Hollow Horror". It's one of the twistiest roads in Texas and navigating it requires some skill. Here's the map. Noting for better or worse that Hippie Hollow park on the shores of Lake Travis is clothing optional and restricted to those 18 years and older. Do with that what you will.
Holland, Michigan: Where else can you take in tulips and have your bike blessed at the same time? In April, tulips are the most famous attraction in Holland, MI, but definitely not the only one. The Annual Lakeshore Blessing of the Bikes will be happening on April 25, 2021, at the Ottawa County Fairgrounds. Bring your bike and start the motorcycle season off right. Then head north up the eastern coast of Lake Michigan to Traverse City where, if you time it just right, you can see the cherry trees beginning to blossom. If you have plenty of time, you can finish circling Lake Michigan or catch the ferry back from Ludington to Manitowoc.
So, where will you go first?
Wherever it is, don't forget to protect your motorcycle first. Contact Discount ESP today!