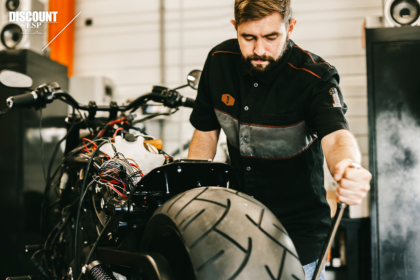 Buying a bike is only the first step—and cost—when it comes to motorcycle ownership. Right off the bat, you'll need to purchase safety gear (a helmet, boots, a jacket, gloves, and pants) and get your motorcycle license, including safety classes, if you don't already have it. You'll also have to figure in regular fill-ups at the gas station, motorcycle insurance, and routine maintenance, too.
But what happens when major repairs come up? This variable cost depends entirely on what's broken and where you get it fixed. Instead of unexpectedly having to spend thousands of dollars to fix your bike, save thousands with an extended service plan from Discount ESP. Let our customers tell you about the times their motorcycle has broken down and how their Discount ESP plan saved the day.
Customer reviews of motorcycle repairs
Tire and brake issues
"I've used [Discount ESP] twice in the last 5 yrs, and they covered both parts as stated: nail in tire and a brake system module," said an anonymous client on June 27, 2021.
"Bent rim, no problem, took it to a dealer, fixed [for] $50, that's all!! Would and have recommended," said an anonymous customer on July 11, 2021.
"When my front brake rotor was found to be warped, it was replaced, no questions asked," said Michael on February 10, 2021.
"I was on vacation when I ran over a nail and got a flat tire, and Discount ESP took care of it quickly with no hassles at all. I have bought this coverage for two different motorcycles, and I can't say I've been any happier with any warranty program," said Eric Blankenbeker on June 22, 2021.
Flywheel trouble
"I had an absolutely great experience with Discount ESP and hands down will keep them as my trusted extended warranty for my Harley(s). Wally and his team are phenomenal and had my claim approved in less than an hour, ensuring I stayed on the road and not cooped up waiting for someone to approve things. I had a flywheel issue when I took my ultra CVO to a Harley dealership in Jacksonville, Florida, and was amazed at how easy the process was for a claim. I truly have NO hesitation recommending them and staying a loyal customer for years and years to come. Thank you, thank you, thank you!! If I could give 10 stars, I would!," said Mike Brosch on April 7, 2021.
Stator problems
"Just got to Sturgis [for the] first time ever the [stator] goes out stuck!!!! Nope, Discount ESP had me in and out in a day. Love this company and I will keep using them. I give them 5 out of 5 in every aspect," said Shaun Bunch on August 26, 2021.
Clutch complications
"My Harley was experiencing some problems. The starter wouldn't engage, and the clutch seemed to be slipping. I took the bike to Warhorse H-D in Ocala, FL, who said they honored Discount ESP. They diagnosed my problems as a blown-up clutch basket, which in turn took out the starter gears. They called Discount with the report and an estimate. Discount honored all the repairs, less my deductible. I was expecting some kind of hassle but none occurred. A simple authorization to repair. The transaction could not have been more simpler and straightforward," said Dan Rop on June 16, 2021.
Defective motor
"Contacted [Discount] ESP regarding a suspected bad reverse motor on my 2017 Harley Trike; they explained the entire process to repair or replace the defective part. They documented my file, and after the Harley Service Center determined that the motor was defective, [they] approved the replacement. The entire process was easy. I appreciate their quick and pro[f]essional response to my problem. I highly recommend Discount ESP," said David on February 13, 2021.
Why add PPM coverage
"I purchased the extended warranty in case of mechanical breakdowns. I also added the Pre-Paid Maintenance program. Just did a 10,000-mile service and Harley Davidson didn't charge me a thing. The service was $400, and I am so glad I added the prepaid maintenance," said Michael on September 1, 2021.
All reviews are from the Discount ESP Trustpilot page.
What are you waiting for? Join the Discount ESP club! Get a free quote online today.