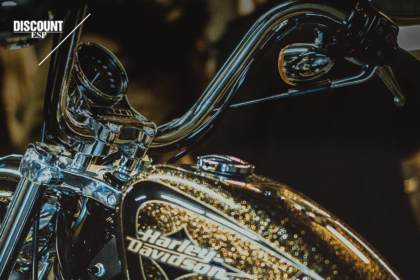 "Your motorcycle comes with handlebars, exhaust pipes, and wheels already on it, so why do you need to change them?," said no rider ever. The proper answer to that question is silence. Seriously. Anyone who asks you that won't understand a single word you say to them.
Riders upgrade their motorcycle so it will look and ride a damn sight better than any of the others. It's all about performance and pizzazz. Your aftermarket upgrades tell everyone that you take pride in your bike and in yourself. At Discount ESP, we get it.
While we're on the subject, how many performance upgrades have you added to your bike and how much did you spend? No judgment—just askin'. (Points awarded for volume and quality.) Let's run through the list together.
Handlebars
Upgrading your handlebars is definitely making a statement about yourself. It says that you care about the details because handlebars affect so many other things: the comfort of those long rides, the look of your bike, the way it corners. That's why it's one of the most common changes owners make to their bikes. Extra points if "the rise of the bar followed the angle of the fork legs." We'll marvel at you.
Exhaust Pipes
Is there anyone who really wants to be seen and not heard? Of course not. One sure way to make your presence known is with more rumble.
If you live for the moment of acceleration but your bike was manufactured to reduce noise, you've got competing priorities. Why not resolve them with a full system upgrade that gives you more power and that hardcore look? Bonus points for installing it yourself and buying titanium instead of steel.
Wheels
This was the first thing you upgraded aftermarket, yes? How did we know that? Because stock tires are the worst, and manufacturers know you're going to replace them anyway. Most people upgrade wheels for looks, but performance comes into play and everyone has an opinion about this.
"Lightweight wheels improve acceleration and turning." "Wide, fat tires are badass tough." "Aftermarket wheels are purely a style decision." We don't know who's right, but we do understand the feeling of brand new wheels and rubber. Bask in the awesomeness.
ECM Power
The electronic control module (ECM) is the brain of your motorcycle. Its software controls ignition, fuel supply, fuel injection, and exhaust treatment. It's also been programmed by the factory in ways that compete with your desires. Once you realize how much it strangles your bike's performance, you decide to flash it and optimize it for performance. Now you're living in the world of smooth-and-powerful and couldn't be happier.
How to stay protected
There it is. You've made these fabulous aftermarket upgrades and need to protect your motorcycle and yourself from expensive repairs. In fact, some upgrades will actually void your factory warranty, leaving you completely unprotected. With a Discount ESP plan, aftermarket components don't void the coverage on your bike. No one understands better than we do how you feel about your ride and the time and money you've invested to make it perfect.
Protect your bike with Discount ESP. Get covered today before you hit the open road!