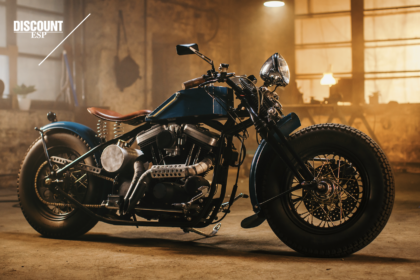 We are currently amid the dog days of winter, which Urban Dictionary defines as "so cold out that you don't mind holding a steaming bag of dog poo in your hand." And this winter has put a crimp in everyone's style. In most places, it's too cold to have a great ride, pretty much no one is bellying up to the bar, and your favorite spring rally may not happen. 
We feel you, and we've got some great motorcycle porn to the rescue. For a few minutes, allow yourself to experience maximum entertainment with minimum effort. 
Watch
Let's start with some eye-popping two-wheeled content from YouTube. Once you get started with the visual delights on these channels, you might not ever have a productive moment on the internet again.
Baron VonGrumble:

Any video description that includes "the most trouser tenting motorcycle that has ever blessed my buttocks" is a must-watch. On this channel, the intrepid "Baron Von Grumble" takes you to some of the world's best tracks on his collection of premier bikes.

MotoGP: Subscribe to this channel for prototype bikes that push boundaries, talented riders, and the "Top 5 Crashes of 2020". The slow-motion replays will look amazing cast to your big screen.
MotoGeo: If you've ever wanted to travel the world on two wheels, MotoGeo will make you believe you can do it. The camera work is eye-popping. Start with "Seattle to Alaska/ Honda Africa Twin". You absolutely will be envious, but let it motivate you.
Lurk
Wanna chow down some amazing eye candy? Get yourself off Instagram and over to these wildly creative photo communities.
Garage Project Motorcycles

:

There's some serious camera love behind the photos on this Tumblr site. Each machine is photographed up close and personal so you can plan your next aftermarket purchases. We guarantee you'll be surfing for new pipes immediately.

Biker Life

:

Scroll endlessly in this Flickr group, where passionate and talented riders post drool-worthy photos. Everything to see here. If you decide to join the group, the "only rule is respect". 

Bikes Without Limits

:

This is the place to go when you've given all you have to give for one day and just need to look at pic after pic of gorgeous motorcycle perfection. Suzuki. Yamaha. Triumph. Ducati. It's all there, along with the tightest turn you've ever seen a bike make.
Discover
Aprilia has just revealed the Tuono 660 Naked Bike, and it's OK to stare. Get a first look at this impressive mid-size sports motorcycle. It will be available in the United States at the end of March, retailing at $10,499.
Customers spoke, and Honda listened with its new 2021 Gold Wing Tour motorcycle. Riders thought that this touring bike needed more capacity and better ergos. They're getting both and a fresh palette at a cost of $23,900 to $32,600.
The Real McCoy's Buco J-24 horsehide leather jacket is so finely handcrafted that it will last a lifetime. "Own fewer, better things", right? If you're not ready to drop the $2,500 to own it, you can still look at the pictures. 
Travel
Even with travel restrictions, there are still places you can go to feed your inner adrenaline junkie. Here are three that we guarantee will not disappoint.
North Yungas "Death" Road, Bolivia

. "Death Road" is not a marketing message. The North Yungas really is a dangerous road. Thrill-seekers from all over the world come looking for the ultimate extreme ride. Adventurous and exhilarating or terrifying and perilous? Read one motorcycle rider's tale of adventure and decide for yourself. 

Magical Morocco

. You may not think you want to bike around Morocco, but hear us out. It's only because you haven't seen what riding in Morocco is like. Give this travel blog two minutes of your time and look at all the pictures. Then make your reservation and let us know when you'll be going.

Isle of Man TT

:

"The Isle of Man TT is the ultimate event for motorsport fans across the globe. Every May and June the Isle of Man turns into motorcycle nirvana as the world's greatest road racers gather to test themselves against a 37.73 mile beast of a course carved out of the island's public roads." It bills itself as the ultimate test of man and machine and has unfortunately been canceled for 2021, but that doesn't mean you can't start dreaming about 2022.
Don't forget to top up your bike coverage. Renew your Discount ESP plan today!