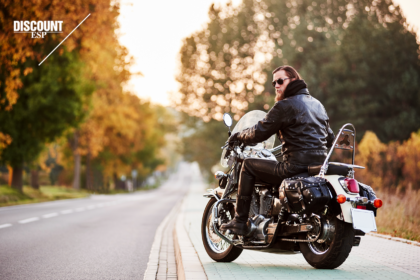 While there are merits to riding in every season, fall motorcycle rides are optimal in many ways, including slightly cooler temperatures and colorful fall foliage around every turn. For many riders, depending on where they're based and their riding preferences, the month of October signifies the last hurrah on their bikes for the year. Take advantage of these five reasons why October is the month to ride in America and get ready for some incredible autumnal rides.
Why October is the best month for U.S. riders
1. Better weather
In many cities across America, October is a month of perfect temperatures—not too hot, not too cold, and few inclement weather days. The cool, dry fall air makes for a very comfortable ride, though temperatures can be warmer during the daytime and cooler in the morning and at night. As long as you're dressed in layers that you can easily peel on and off, including riding gloves that will keep your hands warm if the wind happens to pick up.
2. Great scenery
As fall foliage melts from green into different shades of red, orange, and yellow, you'll have a stunning backdrop for your October rides. Throughout the country, the leaves changing colors will happen at different times depending on the climate, so be sure to pick the right time for your area! The Farmers' Almanac has all the information you'll need to help you plan your ideal October ride this fall.
3. National Motorcycle Ride Day
Each year on the second Saturday in October, riders around the country get to celebrate National Motorcycle Ride Day. Officially submitted on August 15, 2015, by Chad Geer, currently the product manager at Dunlop Motorcycle Tires, it was created to honor the invention of the pneumatic tire and celebrate the beauty of fall riding. It's a special day for all motorcycle riders to get out and ride together and support the motorcycle community and industry. No matter what type of bike you ride or how long you've been riding, all are welcome to enjoy this day.
4. Biketober Fest
Celebrated annually in Daytona Beach, Florida, Biketober Fest has a lot to offer the estimated 100,000 riders that come in for this special event, including live music, motorcycle racing and shows, scenic rides, and more. Make your way down to this four-day rally, scheduled for October 14-17, 2021, this year, and enjoy bikes, beaches, and beautiful weather.
5. Less traffic and tourists
Depending on where you're riding, you can anticipate less traffic, fewer tourists, or both. Sandwiched between the warmer months and major holiday season, you won't have to worry about people taking summer vacations, weekend getaways, or beach days nor everyone traveling to and from friends and family's houses during Thanksgiving and Christmas.
Will you join us? Thousands of riders have already chosen Discount ESP. Get a free quote online today!