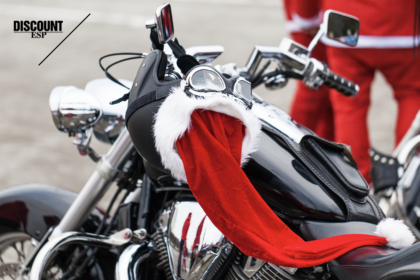 The holidays are here, which means this blog is just in time for those of you who've been putting off shopping for your beloved motorcyclist. Don't just hop on Amazon. Do NOT do that. Stop right now. Discount ESP has got you covered. Whatever your budget, there's something unique on this short and easy holiday gift list for your biker.
Motorcycle gifts under $30
You know how some days just are. And some people just are. And there really are no words. Well, these

license plate custom bolts

will express how your other half really feels. You know they're going to love it and love you for knowing how they really are.

Does your main squeeze back the badge? We can't imagine they wouldn't. Help them show their support right in the face with a

thin, blue line, half-face mask

. Looks good and feels good.

https://www.wisconsinharley.com/harley-davidson-retro-h-d-tin-3-5-inch-coaster-set-pack-of-6-matte-finishes/

They're already thinking about riding all of the time, so why not help them reminisce even more with these retro-style Harley-Davidson® coasters? Added bonus: They protect the furniture from moisture when you're kicking back with a beer after work or on the weekend.
Motorcycle gifts under $50
Most of the time, you probably don't need to ride at night without being seen. But if you ever want to, you'll need a

Swiss Army blackout light

for motorcycles. It's also great fun and that's reason enough. Don't ask why, just buy. 

Not your usual cheesy motorcycle gift, we promise. This

motorcycle whiskey bottle

is amazing and even made in Australia. Unfortunately, they call them motorbikes down under. If we could make that stop, we would. The whiskey bottle is beautifully crafted from premium glass, with intricate details. Comes with 2 shot glasses.

There are keychains—and there are keychains. What's most important is that they aren't cute and they won't ruin your paint job. Check out this buffalo nickel leather key fob by Blackthorn Leather, perfect for everything from holding keys to clipping a hat to your belt

.
Motorcycle gifts under $100
Own your patriotism in style with a high-quality

motorcycle flag

with a mount from Thin Blue Line USA. They've donated more than $500,000 to causes supporting law enforcement, veterans, first responders, and more.

Comfort and accessibility have never been easier with this

biker concealed carry holster

. Your man (or woman) will be prepared for the open road in style. Don't forget to buy a concealed-carry certification class if they don't have the permit yet.

Roll everything up tight to throw in the saddlebag with this must-have

motorcycle tool roll

. He'll have it right there at his fingertips the minute he needs it. He'll love the quality and he won't mind how rugged it looks either.
Motorcycle gifts over $100
Bike boots might be uninspiring to those who lack vision. But these aren't just any bike boots. They are the one and only. The best.

Carolina steel-toe rebel engineer boots

. Get your rebel yell on. 

Speaking of saddlebags, don't get any old thing from some clueless mass market retailer. Get an original design from The Leatherworks in Stockton, CA. Their

custom saddlebags

start at $365 and go up from there. Once you've decided on a style, you can customize it with studs, conchos, pockets, fringe, piping, braids, hand carving, and even a gun holster.

For the rider who has everything, consider a

crystal whiskey decanter set

for the holidays. This brand doesn't presume to know what whiskey your true love prefers. But you know and will make sure that a bottle of it also ends up under the tree.
Another great gift idea? An extended service plan or prepaid maintenance plan from Discount ESP. Pick up yours today!