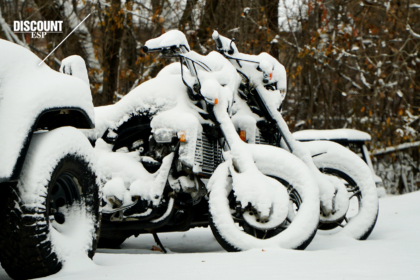 For seasoned winter riders and newbies alike, making sure your bike is ready to handle winter weather is crucial. While winterizing to some people means preparing your motorcycle for storage, some practices are still recommended for riders who plan on riding throughout the winter months, too. Check out our top 10 tips on how to winterize your motorcycle!
How to winterize your motorcycle
Follow these simple steps to winterize your bike, and you'll avoid some major damage in the long run, including deposits in your fuel tank and cooling system, sludgy oil, a brittle chain, flat or cracked tires, and a dead or frozen battery.
1. Replace all of your fluids.
Whether you're storing your bike or plan on using it, keeping an eye on your fluids is important. If you're actively using your bike this winter, be sure to maintain your fluid levels, particularly your coolant, or antifreeze. When you don't properly maintain your coolant, it can go acidic, which means it loses its rust-inhibiting properties and can cause corrosion.
2. Wash your motorcycle regularly.
Corrosion doesn't just happen inside your bike! Regular washing to get rid of dirt, grease, and water spots will improve your motorcycle's appearance and help to prevent corrosion. Be sure to give your motorcycle a good wax to protect the exterior, as well. Wax repels saltwater, which is very common in winter due to the salt that is put down on icy roads and is another way to avoid unnecessary corrosion.
3. Treat your fuel.
Every time you go out for a ride, you should treat your fuel as soon as you get back. This can be done by emptying the fuel system entirely or filling it up. The safest and easiest route is filling your tank up if you have a fuel-injected bike. The point is to drive out air and reduce the possibility of water in your tank; when oxygen and water mix, fuel gets gummy. 
After filling up your tank, add treatment to it, and run the motor for a bit to make sure the treated fuel goes all the way through the bike. You should also wax your chain at this time while your bike is still warm because this will protect it from salt and rust.
4. If you can't keep your bike inside, do this.
The best place for your bike is inside a heated structure with a breathable, waterproof dust cover, but we understand that not everyone has that option. If you keep your motorcycle outside, be sure to bring your battery and seat inside, and be careful with covers. When your bike is outside, a cover can potentially do more harm than good by trapping moisture. As for the battery, you should charge it approximately once a month while kept inside with a trickle (or "float") charger.
5. Change your oil.
Switch your motorcycle to a winter-weight oil. This will make it easier for you to start your bike up again in the spring, whether you've been using it during the winter or not. When looking for weight-weight oils, you can tell by the first number in an oil weight, which refers to how thin the oil will be in cold temperatures. The lower the first number is (down to 0W), the thinner the oil. Make sure to always consult the oil recommendations for your bike as dictated by the manufacturer. 
6. Swap out your tires.
Much like with your car or truck, changing out your normal tires for winter tires can be a smart move if you plan on riding throughout the winter. Be mindful of the climate you live in, however, and what the average temperature is in the colder months. Winter motorcycle tires can be slightly tricky. They are designed to grip incredibly well below 40ºF, but unfortunately, they're also less effective than standard tires at anything above 40ºF.
7. Consider add-ons for your bike.
To stay safe and comfortable while riding in the winter, various add-ons may come in handy, such as heated grips for your handles and heated seats, as well as windshields and a mounted thermometer on your handlebars. A windshield will help keep the cold wind off of you and block precipitation to a certain degree, meanwhile, a thermometer is useful for keeping an eye on the ambient temperature to help know when to stop or find shelter.
8. Winterize yourself with the right gear.
Make sure you have the right riding gear to stay on the roads during the colder months. On your average cold-weather day, windproof clothing is key, whether textile or leather. Whatever you wear, make sure it comes tight around your waist, lower legs, wrists, and neck to keep the chill and wind out. To ensure you stay dry on wet days, consider a rain suit or Gore-Tex oversuit. 
Some other recommended items include a helmet liner, heated gloves, thermal base layers, a waterproof coat and pants, wool socks, waterproof riding boots, and a fog-free helmet shield.
9. Do not "run your bike once a week."
The rumor isn't true—if you don't plan on riding your bike, or using it at its full capacity, don't start it up. Running your bike once a week without riding it can do more harm than good. When it's cold out and you don't take the bike out after starting it up, this is too hard on the motor and allows moisture to condense and go where it shouldn't inside of the bike. Without a full ride, there is no opportunity to heat that moisture off and recharge the battery from the energy needed to start it up in the cold. 
10. Do this to store your bike for the winter.
If you decide you'd rather safely store your motorcycle until next year, there are a couple of steps you should take to make sure it'll be in tip-top shape when you take it back out. These include the following:
Get your bike serviced

, paying special attention to the chains, belt, and wheels. Replace the wheels now if they need to be. Get an oil change and replace the filter, too.

Clean your bike

, focusing on the paint and chrome; give it a wax job; and treat the vinyl or leather on your seat.

Use a fuel stabilizer

to prevent degraded fuel from occurring, which can harm the motor.

Charge your battery

, as you'll lose a charge even when not in use.

Fog the cylinders

,

i.e. lubricate the inside of your motor, with fogging oil to keep it in good shape while not in use. You can also use motor oil to do this.

Find a heated indoor storage unit

, if possible. A garage that maintains a constant temperature is ideal, as a temperature drop may cause a buildup of condensation that can damage your bike.

Put something underneath your wheels,

like cardboard or a piece of carpet, when storing your bike inside if you don't have a motorcycle stand. This will prevent moisture in your floor from affecting the rubber. With this method, you must occasionally rotate the tires to prevent flat spots.

Stuff your air intake and exhaust pipes

to prevent any pests from making a home inside your bike during the winter. This is especially important for people who keep their motorcycles outside. You can easily find muffler covers, plugs, and related items specifically made for this purpose, though some people simply use leftover plastic bags to achieve the same effect.
Ride safe this winter with the right coverage for your bike. Get a free quote online today!